Yes, we're as sad as you that you can't catch a USL NOLA home match (yet) in New Orleans. However, there's still so much to love and celebrate in the Crescent City.
Here are some of our top events happening in New Orleans from Thursday, July 21 to Sunday, July 24.
1. NOLA Riverfest (Saturday, July 23 from noon until 7:30 p.m.; New Orleans Jazz Museum)

A celebration of the Mighty Mississippi, the 10th annual NOLA Riverfest brings live music, presentations and panels, walking tours, delicious local food vendors and a full bar, and more to the New Orleans Jazz Museum.
Free and open to the public, this popular festival combines entertainment with education. In addition to performances from artists like the Treme Lafitte Brass Band or food from Beard Papa's and Not Cho Average Nachos, attendees can attend programming to learn about how New Orleans is develop policies to reduce greenhouse gas emissions or how we can make our neighborhoods more resilient to flooding through native plants and local projects.
Learn more at nolariverfest.org or @nolariverfest on Facebook, Instagram, and Twitter.
2. Vegan 2 The Soul Festival (Sunday, July 24 from 10 a.m. to 6 p.m.; Lemann Park)
This free festival is back for another year of plant-based bites, health + fitness fun, live music, and more.
Start your day off with yoga and fitness classes beginning at 10 a.m. and then enjoy some of the city's vegan-friendly vendors for a day filled with guilt-free indulgence. Free fitness classes, yoga sessions, and outdoor activities will take place throughout the day.
Learn more at vegan2thesoul.com.
3. Picture Man: Portraits by Polo Silk (July 22 – ongoing from 10 a.m. to 5 p.m.; New Orleans Museum of Art)
The New Orleans Museum of Art's newest exhibit brings the work of local photography legend Polo Silk to life.
For more than three decades, Selwhyn Sthaddeus "Polo Silk" Terrell has been photographing Black New Orleans, creating a unique body of work that blends elements of portraiture, fashion, performance, and street photography. The exhibit is a celebration and tribute to Black expression, individuality, and identity through photography.

Learn more and reserve your tickets at noma.org.
4. Creepy Fest (Thursday, July 21 – Sunday, July 24; various locations)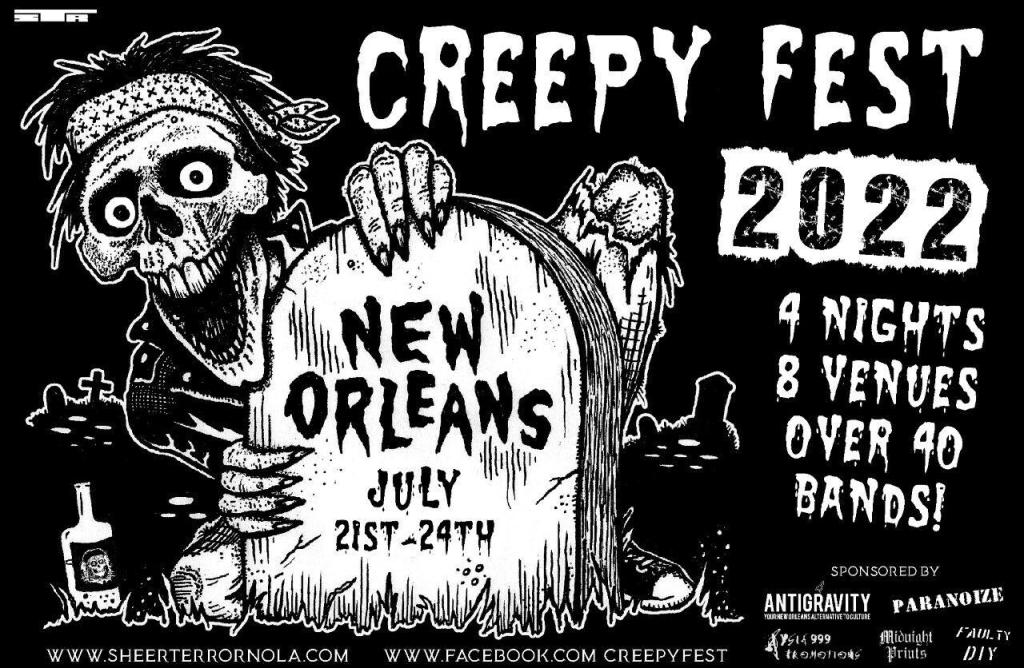 No, no we're not taking about Lonely Island here. New Orleans' underground punk music festival is back for its 13th edition! Hosted by Sheer Terror Records, more than 40 punk, hardcore and metal bands will play this year's festival at venues throughout the French Quarter, Marigny, Mid-City and on St. Bernard Avenue.
Creepy Fest 2022 kicks on Thursday at 6 p.m. at the Pleasure Street skatepark with an all-ages show featuring two stages, artists and vendors. For the full list of artists, venues and schedule click here.
This year's festival will be a tribute to local underground singer and ambassador of NOLA's underground music scene Hollise Murphy, who passed away last year.
5. All-Ireland Final Watch Party (Sunday, July 24 from 9:30 to 11:30 a.m.; Finn McCool's Irish Pub)
Oh come on now, you really didn't think we would leave football off list, did you? This Sunday Galway and Kerry meet in what is sure to be a thrilling match in the All-Ireland championship.
Here's the catch though: this isn't the football (European or American) you're thinking of—it's actually Gaelic football. Soccer meets rugby in this thrilling sport, and you couldn't pick a better match-up to learn the game or fall-in love with it.

Our friend's over at Finn McCool's are hosting a watch party for this year's final, check out the details here.
Got an upcoming event you'd like us to consider featuring? Email us at info@uslnola.com.